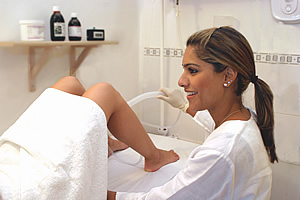 IPCH trained colonic hydrotherapists have undergone a rigorous training that incorporates in-depth knowledge in internal cleansing and detoxification practices as well as Anatomy & Physiology.
When choosing an IPCH trained therapist you can be confident that your therapist:
Is fully insured with full professional and public liability insurance, based on an accredited code of ethics and good practice*
Has demonstrated commitment to hygiene and cleanliness. All contact parts and tubing are renewed for each client
Has set up premises in accordance with IPCH standards; in addition, IPCH advises on gravity fed systems compliant with water board regulations
Has demonstrated commitment to a client centered approach, will be with you throughout your treatment and will not rush you
Is fully qualified and has undergone rigorous and thorough training
Is trained to advise you on a large variety of individually designed detox programmes
has studied the profound relationship between diet, life style, and health and can advise you on how to get the best from your colonic whatever your symptoms
Whatever you want from your colonic treatment make sure that your therapist is properly qualified and uncompromising on hygiene.
Find an IPCH therapist near you
* For the purpose of insurance only, The Institute of Professional Colon Hydrotherapy Limited is an Introducer Appointed Representative of Balens Limited, Bridge House, Portland Road, Malvern, Worcs., WR14 2TA, UK, who are authorised and regulated by the Financial Conduct Authority.